Accelerating Hamilton business growth
This spring, the City of Hamilton led the launch of the brand new Hamilton Exports initiative. Powered by the Magnet platform, the Hamilton Exports Portal leverages data-matching technology to help local Hamilton businesses connect to the services and resources required to accelerate business growth.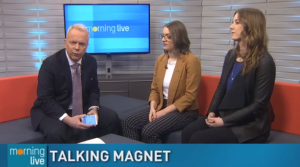 The Hamilton Exports Portal also supports Hamilton businesses in their recruitment efforts, allowing companies to find job candidates with the right skills and qualifications. City of Hamilton Mayor Fred Eisenberger, along with President and CEO of the Hamilton Chamber, Keanin Loomis, both spoke to the Magnet partnership at the Hamilton Chamber of Commerce's Mayor Breakfast this past April.
"We're proud to work with other community leaders through Mayor Eisenberger's Blue Ribbon Task Force to address the many challenges in the local labour market that were identified," says Loomis.
"We live at a time when, simultaneously, job seekers are having difficulties identifying new opportunities and businesses are experiencing difficulty in hiring talent," Loomis added. "Magnet is a 21st-century solution that is designed to remove these impediments."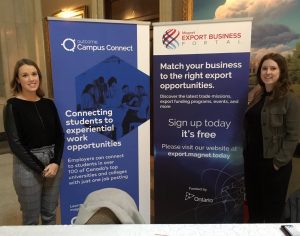 At the Hamilton Chamber's Annual Mayor's Breakfast, Mayor Eisenberger explained the motivation behind forming a strategic partnership with Magnet: "[The initiative] came out of a common issue many of the major industries are facing, which is not being able to get the carpenters, the electricians, the [people] actually needed to run businesses."
"We brought together a group of industries and Chambers of Commerce to look at what we do to improve that – and Magnet came out of that. It's a way of connecting employees with employers, and how that can move more expeditiously. It all came out of the Mayor's Task Force, and I'm very proud of the work the Chamber has done with pulling the [Magnet initiative] together."
Community Partnership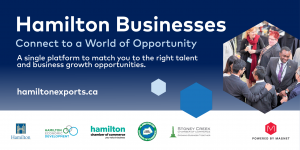 Technology and automation inevitably make it easier for businesses to be matched with the right opportunities – but it's the collaborative nature of this initiative that makes it truly important to local Hamilton businesses.
The Hamilton Exports Portal was born out of a joint effort between Hamilton Economic Development and the three local Chambers of Commerce: Hamilton, Stoney Creek, and Flamborough. This network of partners has become the foundation for the Portal and will drive inclusive economic growth for small and medium-sized companies within the Hamilton region.
Hamilton Businesses: What's in it for you?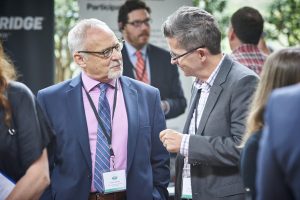 Building your Hamilton Exports profile starts here. Signing up is easy and free! Begin by answering questions about your industry, location, organization size, export goals, and a few other questions that will allow you to receive targeted content from Magnet and leading program providers: the Government of Ontario, Global Affairs Canada, Business Development Bank of Canada and Export Development Canada. Once your profile is complete, you'll be automatically notified of opportunities in the Canadian export ecosystem that are relevant to you.
New opportunities like government funding and grants, trade missions, networking events, and services are announced every week! Chances are, you miss the important ones most of the time. Your customized Magnet feed filters out the noise and only notifies you of opportunities that matter to you.
Becoming a Magnet partner
Do you want to drive inclusive economic growth in your region? If you serve any type of business audience, you might want to learn about the benefits of a Magnet partnership. We work with our partners on an individual basis to help them empower their business community.
Watch our video here.