Science North: A leader among Science Centres
While Science North has grown to become a popular tourist attraction, and an educational resource for children and adults across Ontario, less known is the organization's extraordinary export journey. As a service-oriented establishment, Science North challenges traditional thinking related to foreign trade, showing that export is not only for product-based companies.
In a video presented by the Magnet Export Business Portal, Ashley Larose, Director of Customer Relations and Business Development at Science North, discusses the innovative sustainability model for Science North that relies on exporting.
A large part of Science North's self-generating revenue comes from their dynamic export business. Science North has been able to use the success of their own model to develop custom and ready-made exhibits for sale or lease to science centres, museums, and other cultural institutions around the world.
Ashley Larose discusses the challenge of identifying exporting opportunities and developing a business plan that would enable them to benefit from the market potential they believed existed.
"We knew that there were some services available, and were able to get some good support from Ontario ministries, but to go beyond that we found it a little bit challenging to know which programs to access, which ones we were eligible for, and how we could really streamline our entry into these new markets."
While Science North has been successful at entering international markets like Singapore and China, they now have their sights set on the Latin American market.
A resource like the Magnet Export Business Portal can help Science North in the future to identify the best export events, trade missions and funding opportunities to continue to expand into new markets.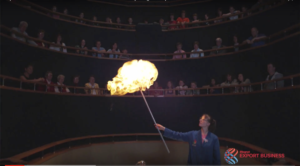 According to Ashley, "When I look back at our export journey, I can't help but think it would have been easier and more cost-effective or efficient to be able to access all of the programs that were available to us in one place, so the idea of having an Export Portal really does appeal to us. "For more information about how the Magnet Export Business Portal can help you accelerate export growth in your business, sign up at https://export.magnet.today.